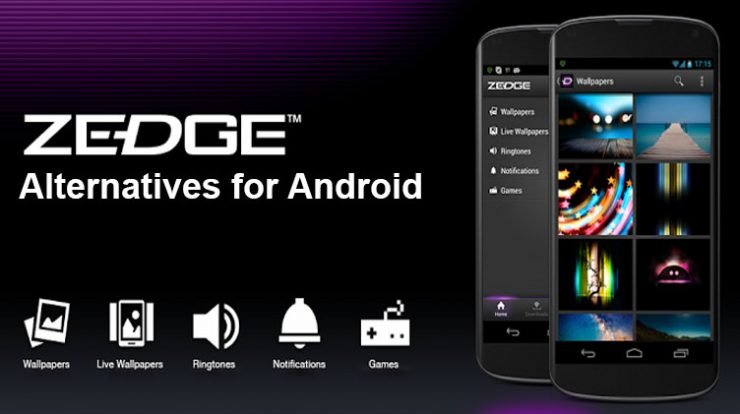 Zedge is one of the most popular Android personalization apps. It enables you to download free ringtones, HD wallpapers, icon packs, live wallpapers, and games. It also gives you access to tons of free notification tones. As Zedge has a massive collection of free downloadable content, it provides a search option to help users find the best tones and wallpapers for their mobile device. Meanwhile, this article will focus fully on Zedge alternatives for android devices.
Zedge app allows users to bookmark the stuff they find interesting. To access the bookmark, tap on the list option of the Zedge app's menu. Zedge has a special feature called family filter that prevents kids from downloading pictures and ringtones inappropriate for their age. The filter is easily accessible. You can find it in the app settings interface. Zedge is a great app but it is available for download only in select countries.
One of the best thing about this app is its search algorithm. Zedge uses tags based search algorithm. So, if you type something like New York city wallpaper, it will show you results which contain specific tags which are present in a search keyword. Any ordinary search algorithm will give you all the unnecessary photos related to New York, city and wallpaper. But this Zedge's algorithm will give you the only photos for which you have really searched for.
If you are like me, this can be a big turn off and make you look for the app like Zedge. So, here is a list of top Zedge alternatives for android devices:
List of Apps Like Zedge
Zedge is not the only app to customize wallpaper, ringtones on Android devices. Similar apps that perform the same function are listed below:
Wallpapers HD (WHD)
One of the best Zedge alternatives for android devices is Wallpapers HD.  If you are searching for an app to download wallpapers, install WHD. This application has 100s of wallpapers grouped into 25 categories. Apart from static wallpapers, you can find and download live wallpapers through WHD.
Wallpaper HD provides an option to upload and share wallpapers with other users. It maintains a list of pictures you have downloaded recently. To access this list, tap on the history option. The Wallpaper HD app has a beautiful interface. Images displayed in this app are optimized to load quickly on the user's mobile device. If you have not used is before, peradventure you don't want to run Zedge App on your device, one of the best apps like Zedge is Wallpaper HD, click here to download.
Mobile9
This is an official app of mobile9.com. It is one of the best alternatives to the Zedge app to download more free themes, custom fonts, wallpapers, ringtones etc on your Android devices.This is tightly packed app with the size of only 7 MB. Wow, this app will not occupy space on your device as it has little space to use on your Android phone.
Lots of categories are available to browse, filter, and sort. Lots of free themes and popular launchers are available to download such as Nova Launcher, Go Launcher, MIUI Launcher, Buzz Launcher, ADW Launcher, and much more. You will even get notified when your favorite content is available for download. It has an auto-complete search with suggestions like Google. You can tap on the image to get a proper full-screen view of the image. Share interesting content on a mobile9 app with your friends over social media with an inbuilt option. If you really need apps like Zedge or similar apps like Zedge on your device, then you need Mobile9 on your device, Click here to have it on your phone.
MTP Ringtones & Wallpapers
MTP Ringtones & Wallpapers has an interface very similar to Zedge. If you were any bit of a fan of Zedge's interface, you wouldn't be disappointed switching to this app. I can't go on enough about its similarities with Zedge.
It offers both ringtones and wallpapers with sub-categories for each of them. Unlike Zedge, the search results are first displayed according to the search phrase before being displayed for individual words, making it the most obvious candidate as an alternative. Just like other app mentioned here, you can download this app from Google Play Store as well, click here to have it on your phone.
MyTinyPhone (MTP)
Going through the list of Zedge alternatives for android devices, MyTinyPhone is another important one. The MTP app has a similar user interface and features like Zedge. It has a nice collection of wallpapers and ringtones. It packs a mini app store through which you can discover and download new apps.
MyTinyPulse's search module is similar to that of Zedge. When you enter the search phrase and tap on the search button, MTP displays the number of matched photos and ringtones in a category instead of showing images or ringtone names. To see the content, tap on the category name.
Apart from photos and sound tones, you can download Android games through this app. MTP has an option to clear the files it has saved on your device. You can mark images or ringtones in this app as your favorite. You can also go through the list of recently downloaded files with MTP. Download from here.
Ringtones & Wallpapers for Me
It is a comparatively big app of 21 MB. Even the biggest music nerd can find something special in the large collection of free ringtones of this app. The sounds are organized and categorized in such a way that it is very easy to navigate and browse.
The wallpapers are divided into categories like abstract, animals, and cartoons, while the ringtones are divided in business, holiday, and patriotic among many others. Both of them can also be sorted based on the new and popular ones in their respective categories.
This app continuously updates its content so that user can get daily unique content. Enhance your phone screen look with eye-catching wallpapers. Each wallpaper is really a masterpiece in this app. That cannot be found anywhere else. Keep swiping your screen unless you find the best one for you. No wonder, it has a place in the list of apps like Zedge, you can have it on your phone from here.
Backgrounds HD
If you used Zedge primarily for wallpapers, then Backgrounds HD can be another good option. Like Zedge, you can view the recent and popular wallpapers in the app. The popular tab is further refined to daily, weekly, monthly, and all-time popular.
In addition to this, the wallpapers are separated into different categories like animal, buildings, and cars, making it easier for you to find the right one. The app features dynamic search which means that you'll get tag suggestions as soon as you start typing in the search bar. If you are curious about Zedge alternatives for android devices, this app could be the app you need. Download from here on your phone.
You will find two more tabs in the app: Feed and Shuffle. Ongoing to Shuffle, you will find random wallpapers from all the categories in a single place. These results can be refreshed by pulling down from the top of the screen.
For using the Feed tab, you will be required to sign in using either your Google or Facebook account. Once signed in, you can then view and download images from different people and even follow them if you like.
Pixel Icon Pack (PIP)
PIP is a free app that allows you to replace old and dull icons in your smartphone with round HD and Quad HD icons. If you have changed the wallpaper, you can make the phone's home screen look better by changing icons with PIP.
The application feature 6000+ icons for various popular apps. Icons in this app are categorized into various groups. They are based on material design. PIP has the option to request icons from the developer. It supports 15+ launchers, CyanogenMod Theme engine, and animated calendars. Download this Zedge like app from here.
Mobile 24
Another Zedge alternatives for android devices with very small size is Mobile 24. It is just 7MB app. With this app, you can listen and download free ringtones. This app has a unique catalog for the latest and best sounds.
Bring your phone's screen to life with vivid backgrounds and eye-catching themes. This app even includes launcher themes. This app has a super fast and smart search engine which makes browsing in this app easy.
Discover the best and most popular apps, games, new and trending content quickly and easily. Browse Mobile24's massive collection of free mobile downloads. The content of this app is custom made and exclusive to Mobiles24.
Enjoy downloading abstract wallpapers, funny ringtones, filters, texture and landscape wallpapers. And get romantic ringtones, instrumental music. This app has something special for everyone. Sync your favorite downloads in multiple devices. You can download from here to your phone.
Wallpapers
Wallpapers is an app developed by none other than Google itself. In addition to letting you select an image from your phone, it has some similarities to Zedge by featuring different categories like art, earth, and landscapes for you to choose wallpaper from.
High-quality images are first collected from different sources and then sorted into these categories. When you tap on an image, you can view its source by tapping on Explore. The app also has a feature called Daily wallpaper that changes your phone's wallpaper every day with a random image from the selected category. Though the Wallpapers app may not let you download ringtones, it can very well replace Zedge's wallpapers section. Have it from here to your phone.
PhoneDeco (PD)
As the name suggests, PhoneDeco lets you beautify the interface of your phone. The app has a tabbed interface with Categories, Recent, daily popular, weekly, monthly popular and favorites.
The tabs allow you to discover new themes, wallpapers, or ringtones. PhoneDeco has 100+ high-resolution wallpapers. To see the full list of categories, tap on the category option.
PhoneDeco provides themes for messaging apps. Each theme in PD boasts different icons and background image. The app lets you download ringtones. You can also customize the status bar and widgets with it. PD has a user-friendly interface. Don't be surprised to have this app among the list of app similar to Zedge on this list. You can download it from here.
Ringtones XL (RXL)
Having a simple interface, Ringtones XL can perform the same functionality as Zedge when it comes to ringtones. The ringtones are divided into different categories like funny, classical, and holiday. Like Zedge, this app has a separate category for notification sounds.
Each of the categories in the app contains many ringtones, giving you quite a good number to choose from. You can tap on any ringtone and then play it to decide whether it is good enough or not. You will also find a green tick, tapping on which will prompt you to set that tone either as the ringtone, a contact tone, notification tone, or even the alarm tone. Download Ringtones XL from here as Zedge alternatives for android devices
AudiKo
The last but not the least on the apps similar Zedge app on your Android phone is Audiko. Users can listen to ringtones or tracks before downloading them. AudiKo has a collection section where you will find ringtones created from popular songs. It allows you to explore ringtones by song genres. It lets you bookmark ringtones online.
If you are searching for an app to create or download ringtone, install Audiko. To create a new ringtone with Audiko, you can either download the soundtrack from AudiKo or select a file from your phone's music library.
This app enables you to download wallpapers of movies, cartoons, celebrities, cats, space, nature, etc. It lets users share ringtones with friends. Download Audiko from here to your phone.
Digging Deep
Download Zedge HD wallpaper on Android Phone
ZEDGE™ Wallpapers app for iPhone and iPad
Download Free Ringtones From Zedge
Zedge Free Games Download for Android
Install Zedge App from PC to Android Device via Google Play Store