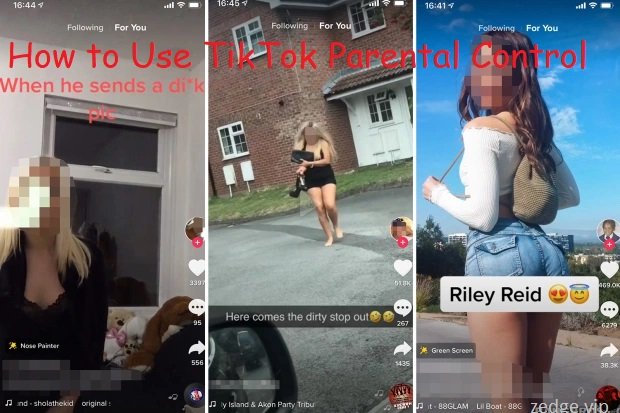 This article will focus on TikTok Parental Control. We have several social media on the internet, but no one catches the eyes of the teens more than the TikTok mini video app. No doubt about it, the app has rocked the online world for tweens, teens and their parents harder in recent years.
This app is free, it allows users to create, watch and share short videos with everyone using the TikTok app. It was recorded the second-largest downloaded app on the Google Play store.
The reason you need TikTok Parental Control is the fact that series of deadly pranks, sexualized clips and gangs of paedos preying on youngsters.
Therefore, stopping your children from using TikTok app might be very hard and tough on you but we need to keep them safe. Once you have decided to let youngsters stay tunes on TikTok app, you need to take some parental control setting through the Tik Tok app on their phone.
In other not to waste more of our time here on this topic, we will run through a comprehensive guide to tackling parental control on the TikTok app. What we are about to share here can go a very long way but it is not 100% way on TikTok Parental Control.
Locate Setting Option on TikTok
This first action to take is to download and install on their devices, such as phone and personal computer. After that, you need to runs through the setting option.
Step 1 ====> Launch the TikTok app, which has a white musical note on a black background as its logo.
Step 2 ====> Then tap Me in the corner
Step 3 ====> Tap the three white dots for settings.
Step 4 ====> From there, you will be able to make important changes to protect your children from harm.
Once you access the settings option, you will now be able to tweak some privacy settings.
TikTok Parental Control via Private Account
A Private Account means only users you've approved can follow you and view your videos and likes. The first action here is tweaking the private account. In other to do this, follow the steps below
Step 1 ====> Head into Settings
Step 2 ====> Privacy and Safety
Step 3 ====> Look for the Discoverability heading at the top.
Step 4 ====> Under that you will see a setting called Private Account.
Step 5 ====> Toggle this on.
NOTE: It will not affect existing followers.
Don't Allow Others to Find You
This process will not allow others to find you on the platform, you only need to follow simple instruction. You only need to turn off find Me. TikTok recommends your page to lots of other users to improve video circulation.
Switch the setting off and the account will no longer be recommended to other users. It will also prevent other people from finding the account more generally.
TikTok Parental Control through Restricted Mode
Restricted mode is referred to as the most important settings for any parent having teens using TikTok app regularly on their devices. Restricted mode limit age-inappropriate content from appearing for teenagers. This is the step to access Restricted Mode
Step 1 ====> You need to run through the Settings
Step 2 ====> Digital Wellbeing
Step 3 ====> Screen Time Management.
This is not perfect and works through using computer-scanning systems. In that case, some dodgy content will inevitably be missed.
However, it is certainly better than nothing at all on TikTok parental Control setting through the Tik Tok app. It is also possible to set a password to prevent your teen from changing this setting later on.
Block Users on TikTok
It is right and possible to block users who you are worried about. If someone has been messaging your child inappropriate, you should report it and block the user. Blocking user is very simple and straight forward.
Step 1 ====> Go to the setting
Step 2 ====> Privacy and safety
Step 3 ====> Now add usernames to the Block List.
Screen Time Management
You can limit the amount of time a user spends on TikTok on daily basis. This process is called TikTok Screen Time Management, this could be another TikTok parental control process. in other to access screen time management on Tik Tok, follow the steps below.
Step 1 ====> Move head to the Settings
Step 2 ====> Now locate and tap on the digital Wellbeing
Step 3 ====> Finally, access the Screen Time Management.
This will allow you to set time limits (like 60 minutes) after which point the user will be cut off for the rest of the day. During the set-up, it is possible to choose a password to prevent teens from changing this feature through the setting.
Don't Allow Interactions
On this, this is what you need to do
Step 1 ====> Go through the settings
Step 2 ====> In Privacy and Safety
Step 3 ====> Safety, you can prevent other users from interacting with you.
Step 4 ====> Most of the settings are on Everyone by default but can be changed to Friends or Off.
You have the right to prevent interactions on comments, Duets, Reacts, users seeing which videos you have liked, and also messages.
The last one is important, as messages are a private way for TikTok users to chat and could be abused by online sickos. It's also worth activating comment filters to sift through and remove any dodgy messages people post on your page.
Digging Deep
Download TikTok for PC via BlueStack
Fix TikTok Login Error Complete Guide
Secure TikTok Account, Complete Guide
Download TikTok Videos Guide Series
Create TikTok Video Complete Guide
Login to TikTok Account Complete Methods
Complete Steps to Sign-Up Account on TikTok
TikTok Parental Control via Family Safety Mode
The next action on the TikTok parental control process is the family safety mode. This setting lets you assign accounts as Parent or Teen, giving you remote control over a child's TikTok access. You can set watch time limits, exclude inappropriate content and limit who can send messages. Access the family mode through the steps
Step 1 ====> You need to go to the Settings
Step 2 ====> Then Digital Wellbeing
Step 3 ====> Family Safe Mode
It is possible to do this from your own smartphone, so you can make sure your child is as protected as possible from anywhere.
Conclusion
Once you are able to follow and adopt what we shared above on TikTok Parental Control, you should be able to control what shows up on your teen TikTok account. Though it is not 100%, it will go a long way in reducing the unwanted videos on TikTok app.