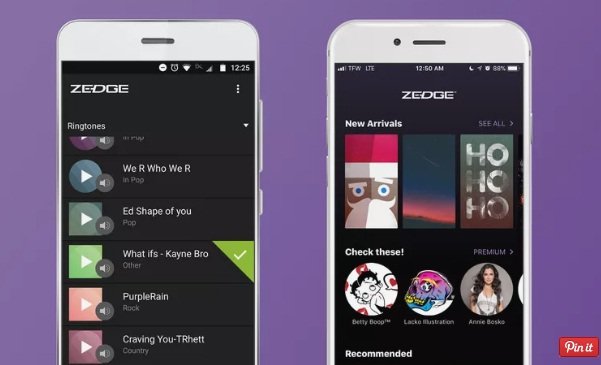 Zedge is a mobile content discovery platform and community where users can download content to customize their smartphones and other mobile devices. The app includes wallpapers, ringtones, alert tones, app icon customization, which is currently in its beta form, and which is only available for Android phones and games on the Android, iOS and Windows Phone platforms. Here on this article, we shall be covering how to upload on zedge community
Zedge app has more than 170 million installs Android and iOS. The app uses a recommendation engine that analyzes anonymized user data in order to create smart suggestions for wallpaper, ringtone, and game downloads was majority investor in Zedge Holdings, the app's parent company, until mid-2016. ZEDGE was named as one of Time's Best 50 Android Apps of 2013
Uploading To Zedge Community
Uploading to Zedge via the community might be tricky a little bit. But believe that everything is possible, here we shall be leading our reading through what need to be done in other to upload on Zedge community. To upload and share your photos and sounds to the Zedge user community, you need:
Step 1 ====> Create an account on Zedge. You can create an account on the Web at zedge.net/upload or via the Zedge Android app (iOS app support coming soon).  You can create an account using your email address and password or by logging in using your Facebook or Google credentials.
Step 2 ====> Once logged in you can upload a photo (for wallpaper) or audio mp3 (for ringtones/notifications) from your device (mobile device or computer), assign a title, search tags, and a category.
Step 3 ====> When uploading a photo/image, you will be asked to note where you want the center of the image to be set. Be sure that your image is large enough and of sufficient resolution (pixel height and width dimensions) to be usable on modern devices.
Step 4 ====> Once you have uploaded your items, it will be returned in searches by Zedge users.
Step 5 ====> You can keep track of how many times Zedge users have downloaded your items by checking your account page. It is exciting to know when your work has been found and liked by other members of the Zedge Community
Digging Deep
Download Zedge HD wallpaper on Android Phone
ZEDGE™ Wallpapers app for iPhone and iPad
Download Free Ringtones From Zedge
Zedge Free Games Download for Android
Install Zedge App from PC to Android Device via Google Play Store
How to Download Zedge APK in India
Finally on Upload to Zedge Community
If you following these steps, you should be able to upload upload On Zedge Community. If you are having trouble uploading or have any questions about how to use your profile, please submit a request and select the Uploading to the Zedge Community category