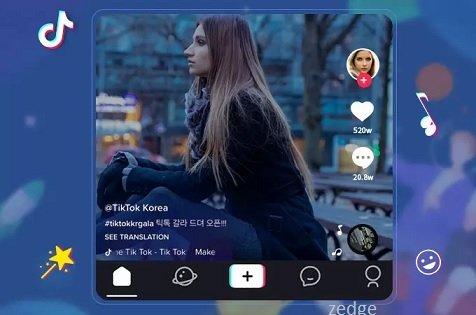 Create TikTok Video: TikTok is known for video, as it is a mini video app. You have watch a series of videos shared by the users, you might be wondering how they made these videos. Making videos on TikTok app is very simple and easy to go about.
Millions of TikTok fans spend several minutes or hours watching videos shared by other people or repeatedly shoot an interesting or meaningful video every day. The complete process will only take a few minutes and steps.
How to Create TikTok Videos
The best way to make TikTok videos is through the app, as mentioned above it will only take a few steps and little time.
Step 1 ====> You need to register your account, but before you do that you need to download Tik Tok app from the play store on your mobile devices
Step 2 ====> In case you have a registered account, you must login to your account before you can create TikTok videos
Step 3 ====> Once you are able to login to your account, you are a step closer to create your Tik Tok video. Launch you the app on your devices
Step 4 ====> On the app, locate and tap the white + sign at the bottom center on the app
Step 5 ====> Now allow access to camera by tapping OK and allow access to microphone by tapping OK
Step 6 ====> Then tap Music to add the song that you would like to inset in your video. Tap the Play icon and then you can preview the song.
Step 7 ====> Tap the red Confirm to use and begin shooting option below the song to use it. You may also search for the song if you can't find it in the category.
Step 8 ====> You will be able to make use of three option, you take a photo, tap shooting and long press shooting. You only need to select the one that suits your need. When you finish recording the video or taking photos, tap special effects, and then you can select the filter and time effects to add.
Step 9 ====> Then tap the Save button on the top right corner.
Step 10 ====> You may decides to change the background music, you only need to tap the Select sound button.
Step 11 ====> Now tap the Volume button if you need to adjust the volume of the soundtrack and original sound and tap the V icon to save it.
Step 12 ====> Now you need to tap the Next and add your comment about the video. You can add location, a Hashtag, and make it public or set who can view this video.
Step 13 ====> Finally, tap the Post to create TikTok video on the TikTok community.
Digging Deep
Login to TikTok Account Complete Methods
Complete Steps to Sign-Up Account on TikTok
Download Handcent SMS 6.5.1 for Android
Download GO SMS Pro 7.91 for Android
Download Chomp SMS for Android
How to Get Rid of Zedge Ringtones
What are Ringtones And Zedge App on Devices
Conclusion
That is all, you can create TikTok video with ease without any problem. This article has highlighted every step you need to follow in other to publish video on Tik Tok